Dujiangyan Railway Station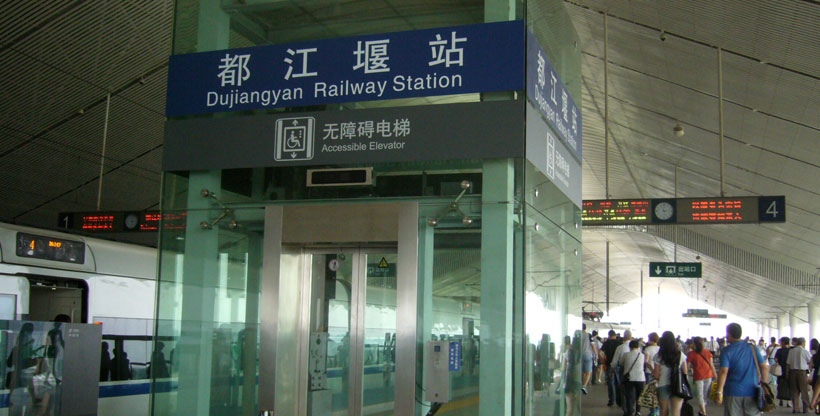 Chinese name:都江堰站
Spelt in Chinese Pinyin:Dujiangyan Huoche zhan
English name:Dujiangyan Railway Station
Situated in Tianfu Ave., Guankou Township, Dujiangyan City, Dujiangyan Railway Station was firstly built on December 1, 2008 and put into service on July 1 of 2010. It is 57 kilometers away from Chengdu Railway Station and 8 kilometers from Qingchengshan Railway Station.
Dujiangyan is a world cultural heritage (it is delegated as a world cultural heritage by UNESCO in 2000), a word natural heritage (a habitat for giant pandas), a major historical and cultural site under state protection and a state-level 5A scenic spot.
Lying in the west part of Dujiangyan city, Dujiang Weir stretches over the Min River running through the west Chengdu Plain. It is constructed in the late years of reign of King Qin(about 256-251BC). Based on the foundation excavated by Bi Ling, It is a large-scale water conservancy project erected under the leadership of Procurator of Shu Li Bing and his son. It comprises Fish-mouth diversion work, Feisha weir and Bottle-mouth reach, which has long played an important role in preventing deluges and irrigating, making Chengdu Plain a fertile land of abundance. Its irrigation area spreads to more than 30 of nearly hundreds of million mu. Besides it is also the only large conservancy project extinct and is still be used today, presenting a crystallized essence of hard work, braveness and wisdom of ancient Chinese.
Trains from Dujiangyan to Qingchengshan: timetable, seat classes and fare
Train No.
Destinations
Duration
Seat Types | Price

C6101

K-train

07:29

Dujiangyan


(都江堰)

07:37

Qingchengshan


(青城山)

00h08m

C6103

K-train

09:26

Dujiangyan


(都江堰)

09:34

Qingchengshan


(青城山)

00h08m

C6105

K-train

09:55

Dujiangyan


(都江堰)

10:03

Qingchengshan


(青城山)

00h08m

C6107

K-train

11:07

Dujiangyan


(都江堰)

11:15

Qingchengshan


(青城山)

00h08m

C6109

K-train

13:26

Dujiangyan


(都江堰)

13:34

Qingchengshan


(青城山)

00h08m

C6113

K-train

17:16

Dujiangyan


(都江堰)

17:24

Qingchengshan


(青城山)

00h08m

C6117

K-train

19:57

Dujiangyan


(都江堰)

20:05

Qingchengshan


(青城山)

00h08m

C6123

K-train

21:57

Dujiangyan


(都江堰)

22:05

Qingchengshan


(青城山)

00h08m
search live China train timetable, schedule and fare
< BACK TO TOP >
Trains from Dujiangyan to Chengdu: timetable, seat classes and fare
Train No.
Destinations
Duration
Seat Types | Price

C6114

K-train

17:53

Dujiangyan


(都江堰)

18:50

Chengdu


(成都)

00h57m

C6122

K-train

22:10

Dujiangyan


(都江堰)

22:39

Chengdu


(成都)

00h29m

C6124

K-train

22:29

Dujiangyan


(都江堰)

22:58

Chengdu


(成都)

00h29m
search live China train timetable, schedule and fare
< BACK TO TOP >