Guiyang North Railway Station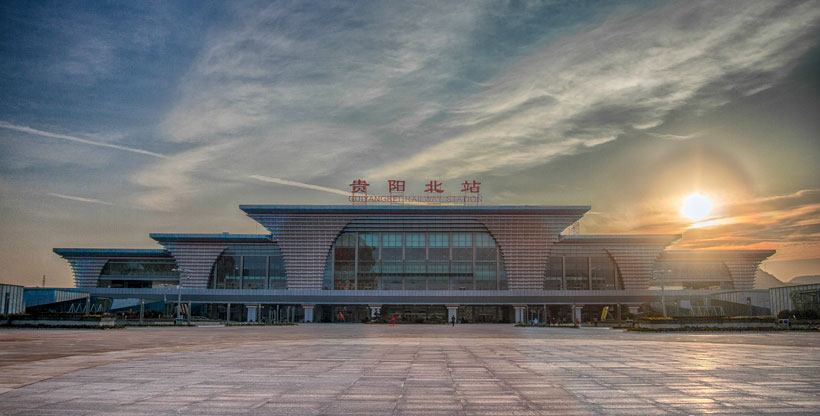 Chinese name: 贵阳北站
Spelt in Chinese Pinyin: Guiyang Bei Huochezhan
English name: Guiyang North Railway Station
Guiyang North Railway Station, spread out in Guiyang, the capital city of Guizhou, is located in the east side of Jiaxiu North Road of Guanshan Lake District. It is more than 10 kilometers away from Guiyang Railway Station and more than 30 kilometers from Guiyang East Railway Station. It was put into service on December 26, 2014.
It is the core station for high-speed railways in Guiyang as well as the largest comprehensive transportation hub of southwest China. Guiyang-Guangzhou High-speed Railway, Shanghai-Kunming High-speed Railway, Chengdu-Guiyang High-speed Railway and Chongqing-Guiyang Railway, Guikai Railway and other city area railways pass through this station.  Guiyang-Guangzhou High-speed Railway stretches to Pearl River Delta in the south;  Shanghai-Kunming High-speed Railway links the central China and the Yangtze River Delta in the east and runs to Kunming in the west; Chongqing-Guiyang Railway and Chengdu-Guiyang High-speed Railway are connect to Chongqing and Chengdu. 
The station building is 418 meters long and 236 meters wide, covering an area of 58,000 square meters. The projected area of canopies and drop-off regions are separately 36,172 square meters and 13,828 square meters. There are 28 platforms with 32 dispatching lines.
The subway No.1 of Guiyang and short and long-distance buses, express railways of Guiyang Airport and taxis link to this station, forming a traffic network consisting of high-speed railways,airport and urban transportation. Besides, tourists, especially from Zunyi, Liupanshui and Yunnan Province, can get off here and take buses No.261 and 267 to change to high-speed railways.
Guiyang North Railway Station and Guiyang Railway Station has their own functions. The former one is offering services for passengers to take high-speed railways and while the latter is for passengers to take ordinary trains.
Trains from Guiyang North to Guilin: timetable, seat classes and fare
search live China train timetable, schedule and fare
< BACK TO TOP >
Trains from Guiyang North to Guangzhou: timetable, seat classes and fare
search live China train timetable, schedule and fare
< BACK TO TOP >
Trains from Guiyang North to Changsha: timetable, seat classes and fare
search live China train timetable, schedule and fare
< BACK TO TOP >
Trains from Guiyang North to Beijing: timetable, seat classes and fare
search live China train timetable, schedule and fare
< BACK TO TOP >