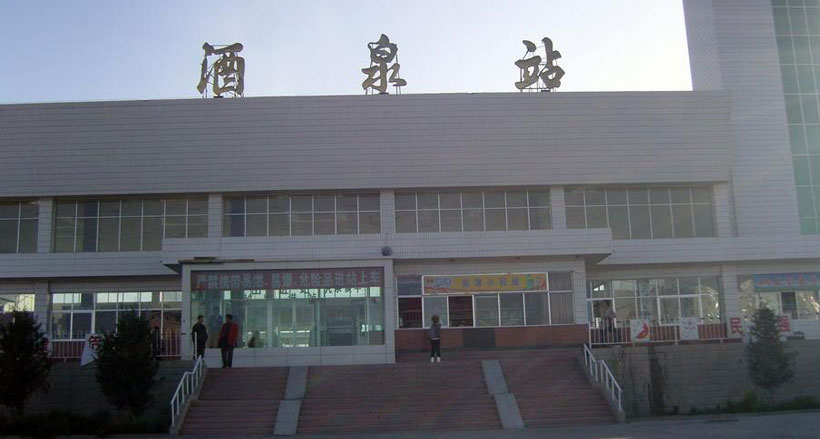 Chinese name: 酒泉站
Spelt in Chinese Pinyin: Jiu Quan Huo Che Zhan
English name: Jiuquan Railway Station
Jiuquan Railway Station is located in Suzhou District of Jiuquan city, the place that has to be passed to Silk Road. It is the joint point to Xinjiang, inner China and satellite bases and can be accessible to about 100 local administrative areas although it lies in northwest China. As one of five railway-available stations (Jiuquan, Yunmen, Dunhuang, Liyuan, Qingshui) of Jiuquan, Jiuquan Railway Station was built in 1956 and is the westernmost one in the First Five-year Plan of China, 748 kilometers off Lanzhou Railway Station and 1164 kilometers off Wuxi Railway Station. Governed by Lanzhou Railway Bureau, it is now a second-rate station.
Transportation: Outside the station taxis are available to Jiuquan and Jiayuguan and buses to urban Suzhou, its towns and Jinta County.
Situated in northwest Gansu, surrounded by the Aerhchin(the west end of Hosi Corridor ),the Chilien and Mt. MazongshanJiuquan, Jiuquan occupies an area of 192,000 square kilometers (about 680 kilometers long from east to west and some 550 kilometers wide from south to north), the largest area (42% of the province's area )of the province. It is also the origin of the province's name"su" and borders on Zhangye city and Inner Mongolia Autonomous Region the east, Qinghai province in the south, Xinjiang Uygur Autonomous Region in the west and Mongolia in the north. Jiuquan has one district, two cities and four counties (Suzhou District, Yunmen city, Dunhuang city, JInta county, Guazhou county, Subei county and Akesai county) under its jurisdiction and a population of 1.1million.
Trains from Jiuquan to Xining : timetable, seat classes and fare
search live China train timetable, schedule and fare
< BACK TO TOP >
Trains from Jiuquan to Jiayuguan: timetable, seat classes and fare
Train No.
Destinations
Duration
Seat Types | Price

Z69

Z-train

10:00

Beijingxi


(北京西)

06:46

Jiayuguan


(嘉峪关)

20h46m

Z179

Z-train

15:15

Beijing


(北京)

17:44

Jiayuguan


(嘉峪关)

26h29m
search live China train timetable, schedule and fare
< BACK TO TOP >
Trains from Jiuquan to Lanzhou: timetable, seat classes and fare
search live China train timetable, schedule and fare
< BACK TO TOP >
Trains from Jiuquan to Urumqi: timetable, seat classes and fare
search live China train timetable, schedule and fare
< BACK TO TOP >
Trains from Jiuquan to Dunhuang: timetable, seat classes and fare
Train No.
Destinations
Duration
Seat Types | Price

K9667

K-train

02:57

Jiuquan


(酒泉)

08:17

Dunhuang


(敦煌)

05h20m

K591

K-train

04:10

Jiuquan


(酒泉)

09:24

Dunhuang


(敦煌)

05h14m
search live China train timetable, schedule and fare
< BACK TO TOP >
Trains from Jiuquan to Xian: timetable, seat classes and fare
search live China train timetable, schedule and fare
< BACK TO TOP >