Kaili South Railway Station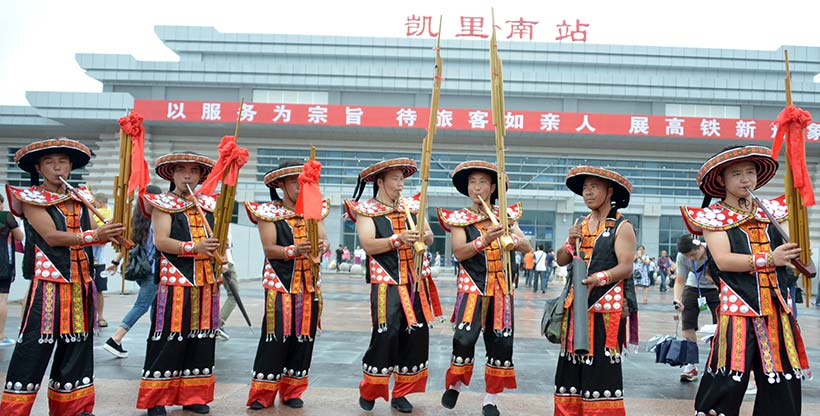 Chinese name: 凯里南站
Spelt in Chinese Pinyin: Kaili Nan Huochezhan
English name: Kaili South Railway Station
Kaili South Railway Station, lying on Jinhui Avenue, Kaili Economic Development Zone, Miao and Dong Ethnic Groups Autonomous Prefecture of Guizhou Province, is a vital station along Shanghai-Kunming Special Railway for passengers and fast trains from Guiyang to Tongren as well as the end point of light railway from Sankeshu Town to Xiasi City. Through Shanghai-Kunming High-speed Railway It connects Sansui Railway Station and Tongren South Railway Station in the east, Guiyang East Railway Station and Guiyang North Railway Station in the west and Duyun East Railway Station in the south. Kaili South Railway Station is a first-rate station with 3 platforms and 7 railways. It is a two-floor building. The first floor is for passengers to get on and off railways, and the second floor serves as waiting rooms, at most housing 2,000 people. After operation of Xinhuang-Guiyang section of Shanghai-Kunming High-speed Railway, it will take only half an hour to get to Guiyang from this station and half a day to get to capital cities of provinces all over the country, thus Kaili will truly be integrated to the national network of high-speed railways. As one of major stations along Shanghai-Kunming High-speed Railway, its passengers come from more than 10 neighboring counties and cities. 
The station was put into service on June 18, 2015.
It only takes one 25 minutes to Sansui, 35 minutes to Guiyang North Railway Station and Tongren North Railway Station, 8 hours and 19minutes to Hongqiao, Shanghai, and 10 hours and 36 minutes to Beijing West Railway Station and 5 hours and 20 minutes to Guangzhou North Railway Station.
Trains from Kaili South to Guiyang: timetable, seat classes and fare
search live China train timetable, schedule and fare
< BACK TO TOP >
Trains from Kaili South to Changsha: timetable, seat classes and fare
search live China train timetable, schedule and fare
< BACK TO TOP >
Trains from Kaili South to Wuhan/Wuchang: timetable, seat classes and fare
search live China train timetable, schedule and fare
< BACK TO TOP >
Trains from Kaili South to Shanghai: timetable, seat classes and fare
search live China train timetable, schedule and fare
< BACK TO TOP >
Trains from Kaili South to Beijing: timetable, seat classes and fare
search live China train timetable, schedule and fare
< BACK TO TOP >