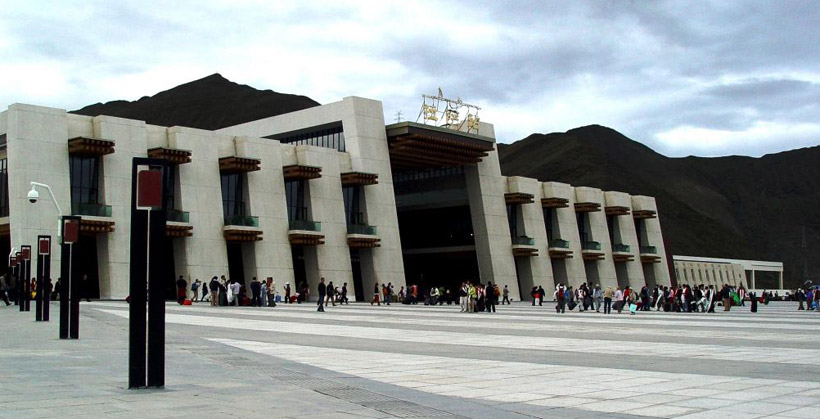 Chinese name: 拉萨站
Spelt in Chinese Pinyin:La Sa Zhan
English name: Lhasa Railway station
Lhasa Station was put into operation on the first day of July 2006 and now is a first-grade station for commodities and passengers under the administration of Qinghai-Tibet Railway Company. Located in the Liuwu of Dollungdeqen County, a southwest county of Lhasa city, the station buildings stands against mountains in the south side of the station plaza. It is a two- floor italic building with its building area occupying 23,600 square kilometers and a height of 22.9 meters. Also, it is surrounded by mountains. The Liuwu Road Bridge traversing Lhasa River links the station and the urban Lhasa.  
Walking into the central hall in the first floor of Lhasa Railway Station, one may feel as if he/she were in a Tibetan palace but returns to modern society while noticing the electronic screens and elevators.
The central hall is mainly decorated with redness and the floor is paved with white and red ship-and galley stone tiles. There are 8 attractive beams standing in the hall. It is said that the beams are designed according to the Tibetan architectural style. These beams are steel-structured inwardly and covered with specially processed pine wood which is antiseptic and antiultraviolet and not deformable. "These beams are fireproofing thanks to the special chemical process."  The central hall is equipped with waiting rooms with soft seats and three VIP waiting rooms. These VIP waiting rooms are decorated with delicate carpets and big tapestries of the Potala Palace, Mount Qomolangma and other well-known scenic spots. Waiting rooms for ordinary passengers and ticket hall are in the west part of the hall. Besides there are corridors in both floors linking the east and the west of the building.   
According to the relevant departments, the ticket hall can offer service of sales of tickets for trains planes and long-distance buses after operation of Qinghai- Tibet Railway.  The second floor is outfitted with a large market and waiting rooms for passengers, and special waiting rooms for mother and babies, and military personnel and waiting rooms with soft seats and medical treatment room. The waiting rooms for ordinary passengers cover an area of 1,760 square kilometers, the waiting rooms with soft seats 800 square kilometers and the VIP waiting rooms less than 700 square kilometers.
There are six platforms of which two are spare ones. The station can accommodate 10 trains simultaneously and has 2700 passengers to come and go every day.
Trains from Lhasa to Chengdu : timetable, seat classes and fare
Train No.
Destinations
Duration
Seat Types | Price

T24

T-train

11:45

Lhasa


(拉萨)

08:16

Chengdu


(成都)

44h31m
search live China train timetable, schedule and fare
< BACK TO TOP >
Trains from Lhasa to Lanzhou: timetable, seat classes and fare
search live China train timetable, schedule and fare
< BACK TO TOP >
Trains from Lhasa to Guangzhou: timetable, seat classes and fare
Train No.
Destinations
Duration
Seat Types | Price

Z266

Z-train

13:10

Lhasa


(拉萨)

19:26

Guangzhou


(广州)

54h16m
search live China train timetable, schedule and fare
< BACK TO TOP >
Trains from Lhasa to Xining: timetable, seat classes and fare
search live China train timetable, schedule and fare
< BACK TO TOP >
Trains from Lhasa to Beijing: timetable, seat classes and fare
Train No.
Destinations
Duration
Seat Types | Price

Z22

Z-train

15:30

Lhasa


(拉萨)

08:20

Beijingxi


(北京西)

40h50m
search live China train timetable, schedule and fare
< BACK TO TOP >
Trains from Lhasa to Xian: timetable, seat classes and fare
search live China train timetable, schedule and fare
< BACK TO TOP >