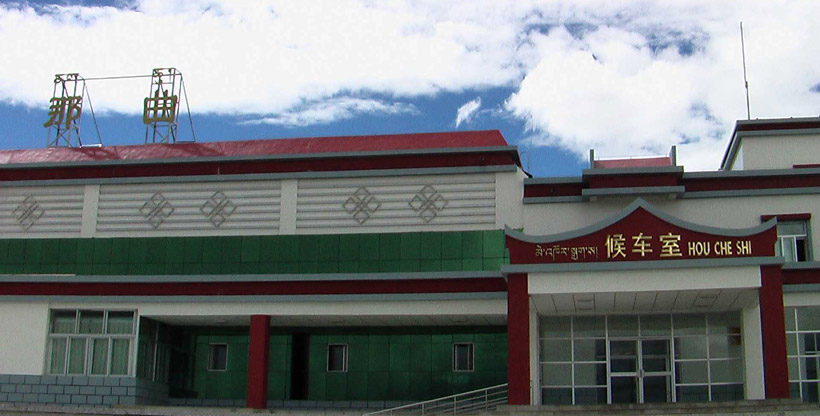 Chinese name:那曲站
Spelt in Chinese Pinyin:Na Qu Zhan
English name:Nagqu Train station
Nagqu Train Station was constructed in 2006. It is located in Emadige village of Mendi town, Nagqu County and is close to Qinghai-Tibet Road. Administrated by Qinghai- Tibet Railway Company, it is a second-rate railway station and a transfer and depot station for Qinhai- Tibet Railway. As the station having the highest altitude, it offers opportunity to tourists to enjoy the beautiful scenery during a short period.
Qinghai-Tibet Railway is 322 kilometers away from Lhasa Railway Station and 820 kilometers away from Golmud Railway Station.
Nagqu Train Station consists of comprehensive station building, warehouse for commodities and other buildings covering an area of 7,412 square kilometers, 2540 square kilometers of which is the area of comprehensive building.
Under the governance of Nagqu District of Tibet, Nagqu County serves as the political, cultural, transportation, information and communication center in north Tibet. Located in the central by north part in Tibetan Autonomous Region and between Tanggula Mountains and Nyainqentanglha mountains, it borders on Dangxiong County in the south, Nierong and Anduo County in the north, Biru and Jiali counties in the east and Bange County in the west. It has an average elevation of more than 4,450 meters and the longest distance from east to west of 233 kilometers and the longest distance from south to north of 185 kilometers and a total area of 16,195 square kilometers.
Trains from Nagqu to Lhasa : timetable, seat classes and fare
search live China train timetable, schedule and fare
< BACK TO TOP >
Trains from Nagqu to Lanzhou: timetable, seat classes and fare
search live China train timetable, schedule and fare
< BACK TO TOP >
Trains from Nagqu to Shanghai: timetable, seat classes and fare
Train No.
Destinations
Duration
Seat Types | Price

Z166

Z-train

16:05

Naqu


(那曲)

11:28

Shanghai


(上海)

43h23m
search live China train timetable, schedule and fare
< BACK TO TOP >
Trains from Nagqu to Xining: timetable, seat classes and fare
search live China train timetable, schedule and fare
< BACK TO TOP >
Trains from Nagqu to Beijing: timetable, seat classes and fare
Train No.
Destinations
Duration
Seat Types | Price

Z22

Z-train

19:09

Naqu


(那曲)

08:20

Beijingxi


(北京西)

37h11m
search live China train timetable, schedule and fare
< BACK TO TOP >
Trains from Nagqu to Xian: timetable, seat classes and fare
search live China train timetable, schedule and fare
< BACK TO TOP >
Trains from Nagqu to Guangzhou: timetable, seat classes and fare
Train No.
Destinations
Duration
Seat Types | Price

Z266

Z-train

16:39

Naqu


(那曲)

19:26

Guangzhou


(广州)

50h47m
search live China train timetable, schedule and fare
< BACK TO TOP >
Trains from Nagqu to Chengdu: timetable, seat classes and fare
Train No.
Destinations
Duration
Seat Types | Price

T24

T-train

15:15

Naqu


(那曲)

08:16

Chengdu


(成都)

41h01m
search live China train timetable, schedule and fare
< BACK TO TOP >