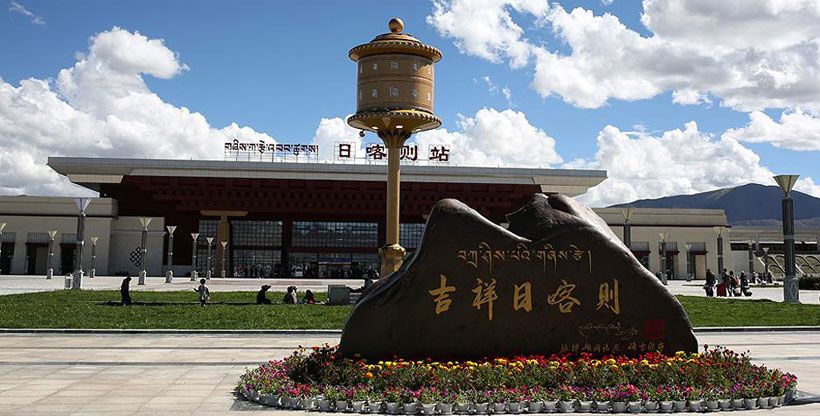 Chinese name:日喀则火车站
Spelt in Chinese Pinyin:Ri Ka Ze Huo Che Zhan
English name:Shigatse Railway Station
Shigatse Railway Station is located in Zhandui village of Jiacuoxiong town, Shigatse city and was put into operation on the fifteenth day of August, 2014. 253 kilometers away from Lhasa Railway Station, it is the last railway hub connecting southwest transportation network. Now it is a second-rate station administrated by Qinghai-Tibet Railway Company.
Lying in Zhanxiong village, Shigatse Railway Station is the terminal of Lhasa-Shigatse Railway, 253 kilometers off Lhasa Railway Station.
As a prefecture-level city under the jurisdiction of Tibetan Autonomous Region, Shigatse is located in the southwest part of People's Republic of China and southwest part of Tibet. It borders on the Ali area in the west, is next to Nagqu district in the north, Lhasa and Shannan Prefecture in the east and is contiguous to Nepal, Bhutan and India. The national boundary it covers is 1,753 kilometers long and it has an area of 182,000 square kilometers with an average elevation of over 4,000 meters. In 2014, Shigatse has a population of 720,000 and governs a district under city administration and 17 counties.
As the second largest city in Tibet, It witnesses a long history of more than 600 years. It was once a political and religious center and served as a residential place of Panchen Lama. Endowed with glamorous natural scenery and unique lifestyle here, Shigatse is recognized as "the most propitious garden". Besides, the highest peak- Mount Everest is situated in Shigatse.