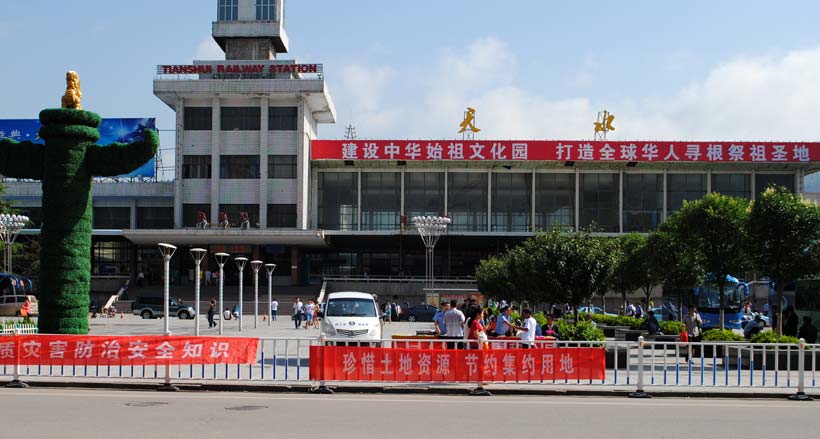 Chinese name:天水火车站
Spelt in Chinese Pinyin:Tianshui Huo Che Zhan
English name:Tianshui Railway Station
The construction of Tianshui Railway Station started in 1945 and was finished in 1948, which was the last station built by the government of Republic of China in mainland China and the westernmost one. As a station along Lanzhou-Lianyungang Railway, it shoulders the come-and-go of a large number of passengers. Now, it is under the administration of Lanzhou Railway Station and become a first-rate station.
Lying in the southeast part of Gansu, Tianshui has long been a place connecting to Silk Road and a place where warlords always fight over with. This city traverses the Yangtze River and the Yellow River with Eurasia Land Bridge running through. By the end of 2013, Tianshui has 5 counties (Wushan, Gangu, Qinan, Qingshui, Zhangjiajie Hui Autonomous County) and 2 districts (Qinzhou and Maiji) under its jurisdiction.
The city has 296 cultural relics under special protection by the state, the province and by the city including Tianshui Fuxi (Fuxi is the legendary god in the mythology of ancient China) Temple, the one and only temple having Fuxi's sculpture, Maiji Mountain Grottoes, one of the four prestigious grottoes in China and recognized sculpture gallery in the east and other 6 grottoes.
Trains from Tianshui to Lanzhou : timetable, seat classes and fare
search live China train timetable, schedule and fare
< BACK TO TOP >
Trains from Tianshui to Xian: timetable, seat classes and fare
search live China train timetable, schedule and fare
< BACK TO TOP >
Trains from Tianshui to Beijing: timetable, seat classes and fare
Train No.
Destinations
Duration
Seat Types | Price

K630

K-train

19:33

Tianshui


(天水)

17:00

Beijingxi


(北京西)

21h27m

Z152

Z-train

22:15

Tianshui


(天水)

14:26

Beijingxi


(北京西)

16h11m

Z76

Z-train

22:23

Tianshui


(天水)

14:32

Beijingxi


(北京西)

16h09m
search live China train timetable, schedule and fare
< BACK TO TOP >
Trains from Tianshui to Xining: timetable, seat classes and fare
search live China train timetable, schedule and fare
< BACK TO TOP >
Trains from Tianshui to Dunhuang: timetable, seat classes and fare
Train No.
Destinations
Duration
Seat Types | Price

K591

K-train

14:45

Tianshui


(天水)

09:24

Dunhuang


(敦煌)

18h39m
search live China train timetable, schedule and fare
< BACK TO TOP >
Trains from Tianshui to Urumqi: timetable, seat classes and fare
search live China train timetable, schedule and fare
< BACK TO TOP >