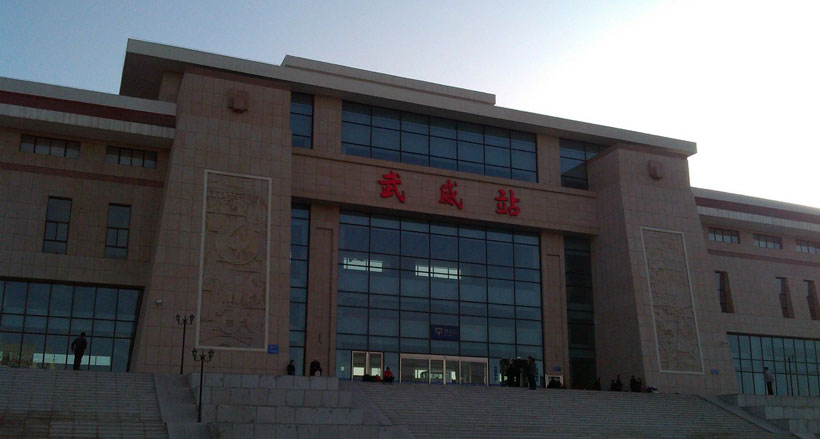 Chinese name: 武威站
Spelt in Chinese Pinyin:Wuwei Huo Che Zhan
English name:WuWei Railway Station-Different from Wuwei Nan Railway Station
Erected in 1954 and under the governance of Weiwu Railway Office of Lanzhou Railway Bureau, Wuwei Railway Station is located in the south edge of urban Wuwei, Gansu, 303 kilometers off Lanzhou Railway Station and 1609 kilometers off Wuxi Railway Station.
On 20 December, 2012, the alteration work of station building was finished and was put into practice.
The renovated state building assumes "a stripe" on the whole. Being 158 meters long, 32 meters wide and 28.6 meters tall, it covers an area of 14,000 square kilometers and is able to house 3,000 passengers at most.
Wuwei, administrated by Gansu is a prefecture-level city. Lying in the middle part of Gansu and the east point of Hosi Corridor, it borders on Lanzhou the capital city of Gansu in the east, connects to Jinchang in the west, backs against Chilien in the south and is contiguous to Tengger Desert.
Wuwei known as Liangzhou in ancient times was a communication center along Silk Road and one of four prefectures on Hosi Corridor. Boasting a favorable geographical position next to Lanzhou in the east, Xining in the south, Yinchuan in the north and Xinjiang in the west, it is a strategic passage of Eurasia Land Bridge and the central place of Western Longhai-Lanxin Economic Zone with Lanzhou-Xinjiang Railway, Ganwu Railway, National Highways G30 and G312 running through. 
Trains from Wuwei to Lanzhou : timetable, seat classes and fare
| Train No. | Destinations | Duration | Seat Types | Price |
| --- | --- | --- | --- |
search live China train timetable, schedule and fare
< BACK TO TOP >
Trains from Wuwei to Jiayuguan: timetable, seat classes and fare
search live China train timetable, schedule and fare
< BACK TO TOP >
Trains from Wuwei to Zhongwei: timetable, seat classes and fare
search live China train timetable, schedule and fare
< BACK TO TOP >
Trains from Wuwei to Dunhuang: timetable, seat classes and fare
Train No.
Destinations
Duration
Seat Types | Price

K9667

K-train

21:28

Wuwei


(武威)

08:17

Dunhuang


(敦煌)

10h49m

Y667

K-train

22:01

Wuwei


(武威)

06:46

Dunhuang


(敦煌)

08h45m

K591

K-train

23:07

Wuwei


(武威)

09:24

Dunhuang


(敦煌)

10h17m
search live China train timetable, schedule and fare
< BACK TO TOP >
Trains from Wu Wei Nan to Zhangye: timetable, seat classes and fare
Train No.
Destinations
Duration
Seat Types | Price

K9661

K-train

01:23

Wuweinan


(武威南)

04:49

Zhangye


(张掖)

03h26m

7507

K-train

10:58

Wuweinan


(武威南)

18:15

Zhangye


(张掖)

07h17m

K43

K-train

12:43

Wuweinan


(武威南)

16:11

Zhangye


(张掖)

03h28m

Z6207

Z-train

13:46

Wuweinan


(武威南)

16:27

Zhangye


(张掖)

02h41m

K9667

K-train

21:07

Wuweinan


(武威南)

00:40

Zhangye


(张掖)

03h33m

K591

K-train

22:46

Wuweinan


(武威南)

01:52

Zhangye


(张掖)

03h06m
search live China train timetable, schedule and fare
< BACK TO TOP >
Trains from Wuwei to Urumqi: timetable, seat classes and fare
search live China train timetable, schedule and fare
< BACK TO TOP >
Trains from Wuwei to Xian: timetable, seat classes and fare
search live China train timetable, schedule and fare
< BACK TO TOP >
Trains from Wuwei to Beijing: timetable, seat classes and fare
search live China train timetable, schedule and fare
< BACK TO TOP >