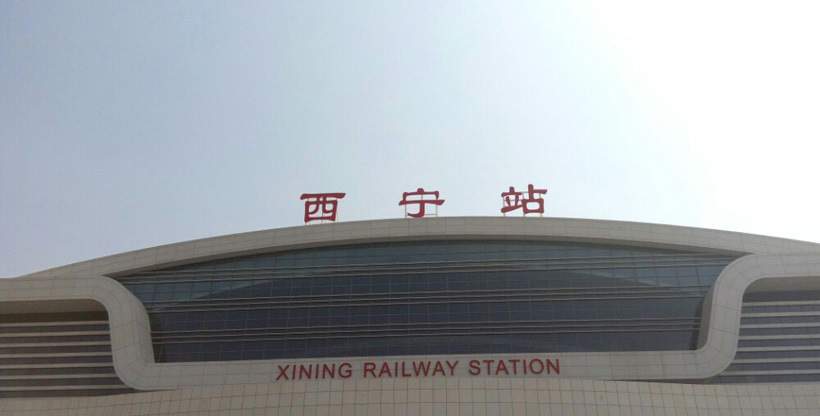 Chinese name:西宁站
Spelt in Chinese Pinyin:Xi Ning Huo Che Zhan
English name: Xining Railway Station
Constructed in 1959, Xining Railway Station is on Jiangguo Road of east part of Xining Qinghai and now a first-rate station for passengers and commodities as well as a marshalling station under the administration of Qinghai-Tibet Railway Company.
Its core zone stretches to Lanzhou- Qinghai Highway in the north, Minxiang-Shangbinhe Road in the south, Zhandongxiang-Qinfenxiang Road in the east and Gonghelu-Zhanxixiang Road in the west and occupies one square kilometers. The project includes the expansion of South Plaza, construction of North Plaza and long- distance bus station.
As the capital city and the largest city of Qinghai, Xining was once known as Xiping county or Qingtang city which carried a meaning of a safe southwest region. It is the political, economic, cultural, educational, scientific, transportation and communication center of Qinghai as well as a inner city open to the outside world approved by State Council of China.
Located in the east Qinghai and Valley Basin of the middle reach of Huangshui River, Xining serves as the eastern gate to Qinghai-Tibet Plateau. As a vital place along Silk Road and Tangfan Track, it has been an artery of transportation network of the west region and an important place for military affairs, thus having the reputation of key to west region and a bottleneck to Tibet and Qinghai. Also it is one of the cities with highest altitude.
Trains from Xining to Jiayuguan : timetable, seat classes and fare
search live China train timetable, schedule and fare
< BACK TO TOP >
Trains from Xining to Lanzhou: timetable, seat classes and fare
search live China train timetable, schedule and fare
< BACK TO TOP >
Trains from Xining to Golmud: timetable, seat classes and fare
search live China train timetable, schedule and fare
< BACK TO TOP >
Trains from Xining to Urumqi: timetable, seat classes and fare
search live China train timetable, schedule and fare
< BACK TO TOP >
Trains from Xining to Beijing: timetable, seat classes and fare
search live China train timetable, schedule and fare
< BACK TO TOP >
Trains from Xining to Xian: timetable, seat classes and fare
search live China train timetable, schedule and fare
< BACK TO TOP >
Trains from Xining to Lhasa: timetable, seat classes and fare
search live China train timetable, schedule and fare
< BACK TO TOP >
Trains from Xining to Yinchuan: timetable, seat classes and fare
search live China train timetable, schedule and fare
< BACK TO TOP >