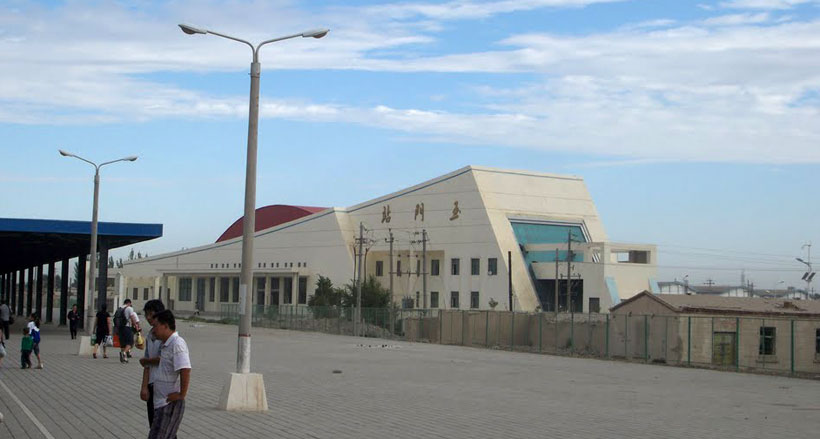 Chinese name:玉门火车站
Spelt in Chinese Pinyin:Yumen Huo Che Zhan
English name:Yumen Railway Station
Yumen Railway Station was built in 1956 in Yumen town of Yumen Gansu and now is a third-rate station under administration of Wuwei Railway Branch Office of Lanzhou Railway Bureau.
On the second day of December 2008, the station's alteration of direction project that had been invested 21million yuan was finished and put into effect.
The former station featured long-time operation, low-level station rate, outworn station building, old and backward infrastructure and disrepaired railroad lines so that trains could not change their directions. Meanwhile only one train for passengers started from this here, putting passengers and local freight into great inconvenience and causing severe restriction to Yumen's economic and social development. Evidence has proved that Yumen's alteration project of direction and plaza construction project were approved by Yumen and Lanzhou Railway Bureaus in late May and started in June 2007.
With investment of 21million yuan, buildings for of 1942 square meters and parking plot of 15 thousand square meters were constructed, all equipped with water, heating and gas system.
Approved by Chinese Railway Engineering Corporation in 2013, the former Yumen Town Railway Station was renamed Yumen Railway Station and the former Yumen Railway Station Yumen East Railway Station on the first day of November 2013.
Trains from Yumen to Jiayuguan : timetable, seat classes and fare
search live China train timetable, schedule and fare
< BACK TO TOP >
Trains from Yumen to Dunhuang: timetable, seat classes and fare
Train No.
Destinations
Duration
Seat Types | Price

K9667

K-train

05:04

Yumen


(玉门)

08:17

Dunhuang


(敦煌)

03h13m

K591

K-train

06:18

Yumen


(玉门)

09:24

Dunhuang


(敦煌)

03h06m

7527

K-train

10:17

Yumen


(玉门)

13:43

Dunhuang


(敦煌)

03h26m
search live China train timetable, schedule and fare
< BACK TO TOP >
Trains from Yumen to Urumqi: timetable, seat classes and fare
search live China train timetable, schedule and fare
< BACK TO TOP >
Trains from Yumen to Lanzhou: timetable, seat classes and fare
search live China train timetable, schedule and fare
< BACK TO TOP >
Trains from Yumen to Beijing: timetable, seat classes and fare
Train No.
Destinations
Duration
Seat Types | Price

Z70

Z-train

23:01

Yumen


(玉门)

20:20

Beijingxi


(北京西)

21h19m
search live China train timetable, schedule and fare
< BACK TO TOP >
Trains from Yumen to Xian: timetable, seat classes and fare
search live China train timetable, schedule and fare
< BACK TO TOP >