Lanzhou Railway Station Guide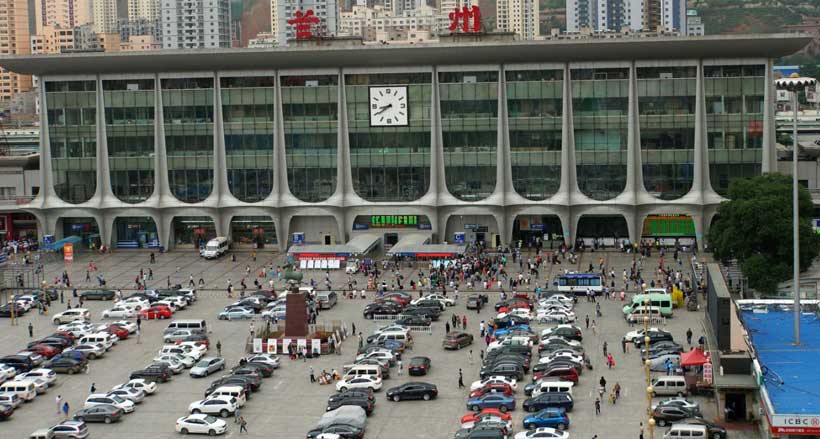 Chinese name: 兰州火车站
Spelt in Chinese PInyin: Lanzhou Huo Che Zhan
English name: Lanzhou Railway Station (Different from the Lanzhou West Railway Station)
Lying in the east road of Chengguan District Railway Station, Lanzhou Railway Station was constructed in October, 1952 and governed by Lanzhou Railway Bureau. As a first-class station, it is not only the terminal of Longhai Railway, Baotou-Lanzhou Railway, Beijing-Lanzhou Line for Passenger Transportation, Chengdu-Lanzhou Railway, Lanzhou-Chongqing Railway, but also the starting point of Lanzhou-Xinjiang Railway and Lanzhou-Qinghai Railway. The station can serve to dispatch ordinary and bullet trains as well as a docking site/point, which is another shining and arresting pearl along the Silk Road. Trains starting from this station lead to places over the country, thus making it capable of welcoming a large number of passengers. Boasting a favorable geographical position, Lanzhou Railway Station is an importance/significant hub in northwest China.
Train Dunhuang is transformed by 25G Passenger Train Y667/8. To boost the construction of Gansu prime section of Silk Road Economic Belt and welcome the new upsurge occuring in Dunhuang's tourism, Lanzhou Railway Bureau, on 10 July of 2014, officially released specific tourist train series Dunhuang Y667/8.
One of the distinguished features by this train is to fully assume the characteristics of Dunhuang Culture and the glamour along Hosi Corridor. "Each carriage displays a scenic spot of this city, through which one can feel the profound cultural deposits of Gansu." According to the relevant person in charge of the bureau, whether decoration painting or the curtain's pattern of every carriage are well-chosen, achieving that each carriage is a small room with its own unique view. Besides, passengers can appreciate Dunhuang dance choreographed and performed by attendants and interactive performance with "silk road fairy".
Outfitted with wireless network coverage, train Dunhuang is also equipped with a net bar working around the clock and two dining cars, where tourists can taste cocktail and coffee made in front of them and order buffet. This stands for the top-notch service in the history of Lanzhou Railway Bureau.
Trains from Lanzhou to Dunhuang: timetable, seat classes and fare
Train No.
Destinations
Duration
Seat Types | Price

K9667

K-train

17:17

Lanzhou


(兰州)

08:17

Dunhuang


(敦煌)

15h00m

Y667

K-train

18:00

Lanzhou


(兰州)

06:46

Dunhuang


(敦煌)

12h46m

K591

K-train

19:08

Lanzhou


(兰州)

09:24

Dunhuang


(敦煌)

14h16m
Search live China train timetable, schedule and fare
< BACK TO TOP >
Trains from Lanzhou to Yinchuan: timetable, seat classes and fare
Search live China train timetable, schedule and fare
< BACK TO TOP >
Trains from Lanzhou to Tianshui: timetable, seat classes and fare
Search live China train timetable, schedule and fare
< BACK TO TOP >
Trains from Lanzhou to Urumqi: timetable, seat classes and fare
Search live China train timetable, schedule and fare
< BACK TO TOP >
Trains from Lanzhou to Xining: timetable, seat classes and fare
Search live China train timetable, schedule and fare
< BACK TO TOP >
Trains from Lanzhou to Jiayuguan: timetable, seat classes and fare
Search live China train timetable, schedule and fare
< BACK TO TOP >
Trains from Lanzhou to Beijing: timetable, seat classes and fare
Train No.
Destinations
Duration
Seat Types | Price

K886

K-train

13:21

Lanzhou


(兰州)

13:58

Beijing


(北京)

24h37m

K630

K-train

14:31

Lanzhou


(兰州)

17:00

Beijingxi


(北京西)

26h29m

T176

T-train

15:10

Lanzhou


(兰州)

09:29

Beijingxi


(北京西)

18h19m

Z22

Z-train

16:17

Lanzhou


(兰州)

08:20

Beijingxi


(北京西)

16h03m

Z152

Z-train

17:45

Lanzhou


(兰州)

14:26

Beijingxi


(北京西)

20h41m

Z76

Z-train

18:06

Lanzhou


(兰州)

14:32

Beijingxi


(北京西)

20h26m

Z56

Z-train

20:40

Lanzhou


(兰州)

13:36

Beijingxi


(北京西)

16h56m
Search live China train timetable, schedule and fare
< BACK TO TOP >
Trains from Lanzhou to Chengdu: timetable, seat classes and fare
Search live China train timetable, schedule and fare
< BACK TO TOP >
Trains from Lanzhou to Lhasa: timetable, seat classes and fare
Search live China train timetable, schedule and fare
< BACK TO TOP >
Trains from Lanzhou to Xian: timetable, seat classes and fare
Search live China train timetable, schedule and fare
< BACK TO TOP >
Trains from Lanzhou to Zhangye: timetable, seat classes and fare
Search live China train timetable, schedule and fare
< BACK TO TOP >
Trains from Lanzhou to Wuwei: timetable, seat classes and fare
Train No.
Destinations
Duration
Seat Types | Price

K1661

K-train

05:00

Lanzhou


(兰州)

08:35

Wuwei


(武威)

03h35m

K679

K-train

06:01

Lanzhou


(兰州)

09:28

Wuwei


(武威)

03h27m

K169

K-train

06:42

Lanzhou


(兰州)

10:10

Wuwei


(武威)

03h28m

Z6201

Z-train

07:15

Lanzhou


(兰州)

10:19

Wuwei


(武威)

03h04m

Y663

K-train

07:45

Lanzhou


(兰州)

10:45

Wuwei


(武威)

03h00m

Z6207

Z-train

10:45

Lanzhou


(兰州)

14:01

Wuwei


(武威)

03h16m

T9215

T-train

11:25

Lanzhou


(兰州)

15:05

Wuwei


(武威)

03h40m

T197

T-train

11:33

Lanzhou


(兰州)

14:37

Wuwei


(武威)

03h04m

K1503

K-train

12:03

Lanzhou


(兰州)

15:52

Wuwei


(武威)

03h49m

T193

T-train

12:34

Lanzhou


(兰州)

15:38

Wuwei


(武威)

03h04m

T205

T-train

13:01

Lanzhou


(兰州)

16:05

Wuwei


(武威)

03h04m

K175

K-train

13:10

Lanzhou


(兰州)

16:38

Wuwei


(武威)

03h28m

Z6203

Z-train

14:30

Lanzhou


(兰州)

17:48

Wuwei


(武威)

03h18m

T295

T-train

16:38

Lanzhou


(兰州)

19:48

Wuwei


(武威)

03h10m

K9667

K-train

17:17

Lanzhou


(兰州)

21:22

Wuwei


(武威)

04h05m

Y667

K-train

18:00

Lanzhou


(兰州)

21:51

Wuwei


(武威)

03h51m

T307

T-train

18:09

Lanzhou


(兰州)

21:13

Wuwei


(武威)

03h04m

K591

K-train

19:08

Lanzhou


(兰州)

23:01

Wuwei


(武威)

03h53m

K595

K-train

19:20

Lanzhou


(兰州)

22:48

Wuwei


(武威)

03h28m

K9661

K-train

21:25

Lanzhou


(兰州)

01:38

Wuwei


(武威)

04h13m

T6601

T-train

21:50

Lanzhou


(兰州)

01:02

Wuwei


(武威)

03h12m
Search live China train timetable, schedule and fare
< BACK TO TOP >