Lanzhou West Railway Station Guide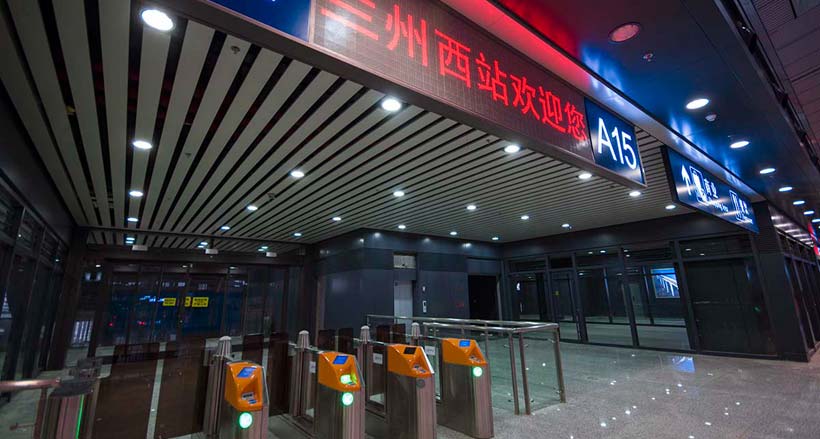 Chinese name: 兰州西客站
English name:Lanzhou West Railway Station (Difference from the Lanzhou Railway Station)
Spelt in Chinese Pinyin:Lanzhou Xi Ke Zhan
Situated in the Xijin west road of Qilihe District, Lanzhou West Railway Station as a top-grade station was constructed on 13 March of 2013 and went into service on 26 December, 2014. It is under the governance of Lanzhou Railway Bureau. This station is the largest one in Gansu, which is now the uncomparable modern comprehensive transportation hub as well as one of the top ten transportation centers planned by the Ministry of Railways.
Lanzhou West Railway Station has covered an area of 233,000 square kilometers, of which the station building occupies 100,000 square kilometers with 13 platforms and 26 lines (two main lines included). From north to south are general-speed and high-speed fields, the former including 5 platforms with 11 lines which are designed to connect to Lanzhou-Lianyungang Railway and Lanzhou-Xinjiang Railway, while the latter having 8 platforms with 17 lines, which links Baoji-Lanzhou High-speed Railway and Lanzhou-Xinjiang High-speed Railway.
The construction of Lanzhou West Station is propitious to establish the Northwest Regional Gateway joining China and the rest of the world, enhance the formulation of railway pivots working as road networks and national road transportation hubs, to build core hubs of West Region and inner communication conjunctions that influence surrounding areas and serve the whole region, and reinforce the construction of South-North passages, therefore forming a transit system which not only links south and north but joints east and west. 
Trains from Lanzhou West/Xi Railway Station to Xining Railway Station: timetable, seat classes and fare
Search live China train timetable, schedule and fare
< BACK TO TOP >
Trains from Lanzhou West/Xi Railway Station to Zhangye Railway Station: timetable, seat classes and fare
Search live China train timetable, schedule and fare
< BACK TO TOP >
Trains from Lanzhou West/Xi Railway Station to Beijing Railway Station: timetable, seat classes and fare
Train No.
Destinations
Duration
Seat Types | Price

K886

K-train

13:21

Lanzhou


(兰州)

13:58

Beijing


(北京)

24h37m

K630

K-train

14:31

Lanzhou


(兰州)

17:00

Beijingxi


(北京西)

26h29m

T176

T-train

15:10

Lanzhou


(兰州)

09:29

Beijingxi


(北京西)

18h19m

K44

K-train

15:22

Lanzhou


(兰州)

19:42

Beijing


(北京)

28h20m

Z22

Z-train

16:17

Lanzhou


(兰州)

08:20

Beijingxi


(北京西)

16h03m

Z152

Z-train

17:45

Lanzhou


(兰州)

14:26

Beijingxi


(北京西)

20h41m

Z76

Z-train

18:06

Lanzhou


(兰州)

14:32

Beijingxi


(北京西)

20h26m

Z56

Z-train

20:40

Lanzhou


(兰州)

13:36

Beijingxi


(北京西)

16h56m
Search live China train timetable, schedule and fare
< BACK TO TOP >
Trains from Lanzhou West/Xi Railway Station to Wuwei Railway Station: timetable, seat classes and fare
Search live China train timetable, schedule and fare
< BACK TO TOP >
Trains from Lanzhou West/Xi Railway Station to Xian Railway Station: timetable, seat classes and fare
Search live China train timetable, schedule and fare
< BACK TO TOP >